Your reward for fundraising
No matter the amount of funds you raise, we want you to know how much it means to the blood cancer community that you care. 
When you register for Light The Night, you will receive a window decal of a lantern so you can be a beacon of light for those affected by a blood cancer wherever you may be in Canada.


 
Individual rewards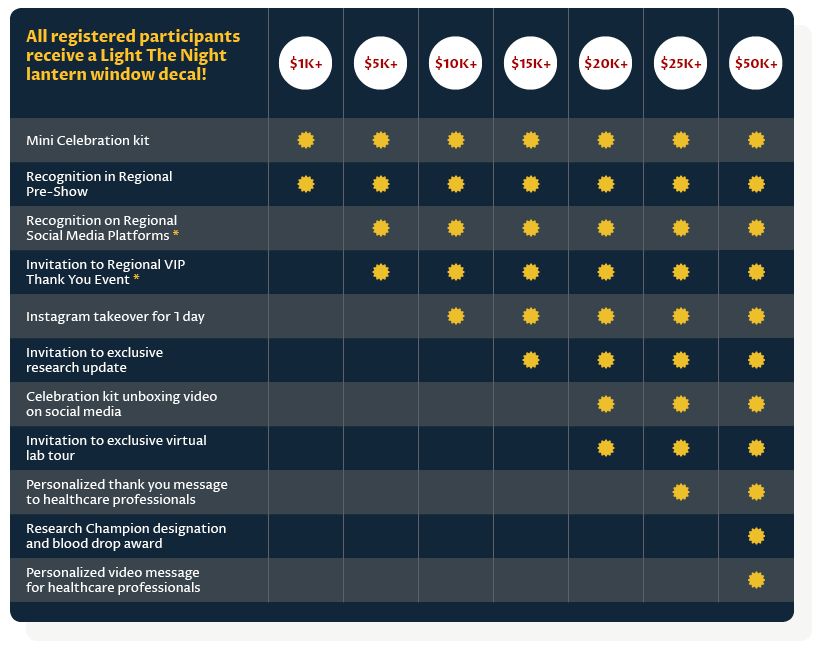 Team rewards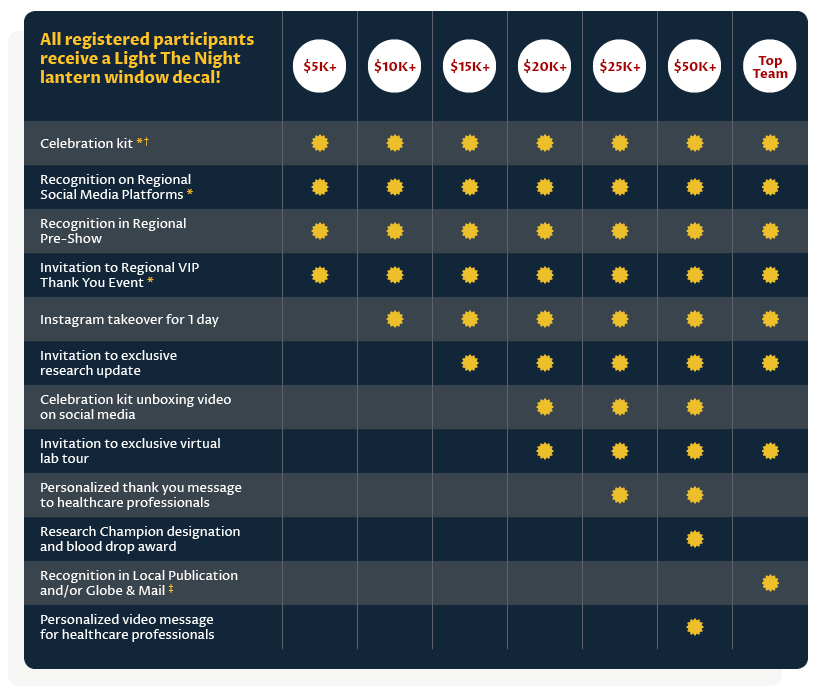 Did you know?
Light The Night generates about 60% of our funding for blood cancer research and community programs.
It is our single largest source of revenue.
Tools for fundraising success
Whether you are fundraising as an individual or as a team, preparing how you will fundraise gets you closer to your Light The Night target. How you fundraise is entirely up to you! Just remember, no matter what you choose to do, we can help you along the way. And most of all, you will be helping the blood cancer community in a big way.
Step 1 - Select a fundraising activity
1. Ask for a donation from family and friends.
Asking for a donation directly is by far the most straightforward way to fundraise. Don't be discouraged if nothing happens after the first try. Many people will give if you ask more than once. So ask again and again.
2. Accept donations instead of a gift for special occasions. 
3. Offer a product or service in exchange for donations or with proceeds going to your fundraising.
Hold a sale of homemade crafts, baked goods, artwork, etc.
Provide a service like lawn mowing, yoga instruction, giving a performance, etc.
Put items up for auction in our Virtual Light The Night Auction event.
4. Host a fundraising event (virtual or in-person)
5. Organize a fitness challenge
Link your fundraising to the Strava app, a fitness tracker where you can start a challenge for walking, cycling, running, swimming, yoga, skating, you name it!
Check out our best Strava ideas for fundraising.
Step 2 - Organize how you will collect funds
1. Collect funds through your individual or team's fundraising page.
Share the link to your fundraising page so that your friends, family and social network can donate by credit card on our secure system online. It is the fastest and easiest way to collect funds toward your fundraising goal.
2. Collect funds by cash, cheques or through a third-party platform, such Eventbrite.
Then, login to your participant centre to submit the funds by credit card so that your fundraising total reflects any funds received in any method outside your fundraising page.
Submit donations received in cash, cheques or third-party platforms.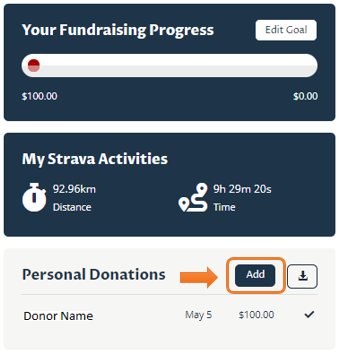 Step 3 - Spread the word to friends, family and beyond!
1. Scan through your contact list.
Round up your network of colleagues, neighbours, social media followers, friends and family members as you prepare to make an ask for a donation. Some people will prefer to help in other ways by giving you a hand to plan and host an event or by donating an item that you can add to the virtual auction. Keep your options open.
2. Tell your story.
pen up about why you care about the blood cancer community. You can share your own personal connection to the cause or express your concern about how the pandemic may have a devastating impact on families dealing with a blood cancer diagnosis.
3. Give updates.
Keep your friends and family posted about your fundraising progress. It will help to remind them to donate or to participate in your fundraiser. Your supporters will be grateful for the updates and feel like they are part of something really special.
4. Send a thank you note
Don't wait too long before you extend a heartfelt thank you. It will go a long way to make your supporters feel appreciated and give again the next time you ask.
Mail a card. 
Send an email. 
Post your thanks on social media. 
Fundraising tools for all participants
Fundraising tools for Team Captains
Contact Us
Speak to one of our trained coaches to help guide you through your fundraising plan.

Contact our national office :