Light The Night : Let Your Light Shine
When you or someone you love hears the words "you have cancer"… It's one of the darkest moments in your life.
Our community shines as a beacon of hope in time of despair, a sanctuary of solidarity in a place of loneliness and a haven of support when you don't know where to turn.
 Light The Night is Canada's night to, pay tribute, bring hope and celebrate the blood cancer community. Each year more than 35,000 Canadians participate raising money for research and community programs to improve the lives of people affected by blood cancers.
In 2020 our community made possible an investment of more than $2.7 million in life saving, ground breaking research.
Thousands watched an unforgettable broadcast filled with music, stories and achievements from across our nation.
COVID did not stop us then and it won't stop us now. Light The Night is more than a walk, more than a broadcast, more than a fundraiser. Light The Night is triumph over darkness, loneliness and despair.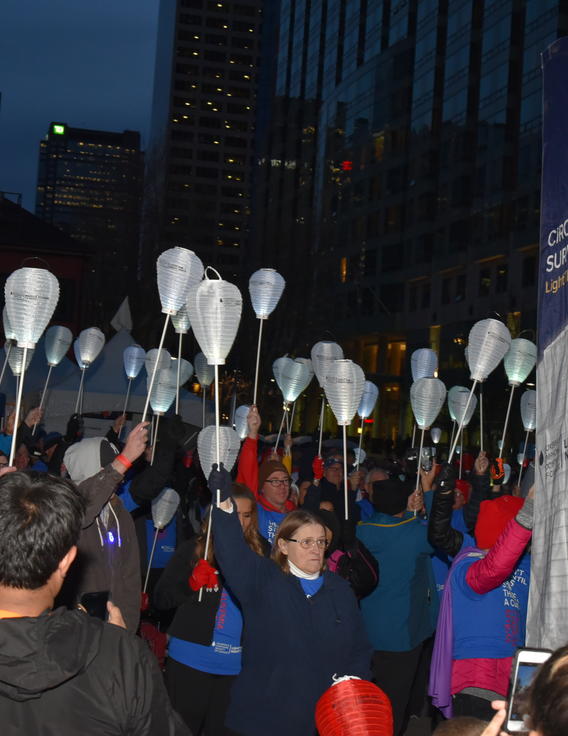 Regional Office Contact Information
Atlantic Canada Region
50 Bedford Highway, Suite 210
Halifax NS B3M 0J9
Toll Free : 1-833-222-4884
British Columbia/Yukon Region
303 -1401 West Broadway
Vancouver, BC V6H 1H6
Toll Free : 1-833-222-4884
Ontario Region
804-2 Lansing Square
Toronto, Ontario M2J 4P8
Toll Free : 1-833-222-4884
Prairies Region
1212 31st Avenue NE, Suite 210
Calgary, AB, T2E 7S8
Toll Free : 1-833-222-4884
Quebec Region
Toll Free : 1-833-222-4884
National Office
The Leukemia & Lymphoma Society of Canada
2 Lansing Square, Suite 804
Toronto, ON M2J 4P8